Food Security
Emergency Food Bank and Daily Lunches
We help individuals and families in Welland that are struggling to meet their basic needs by providing access to our food bank and community lunch program.
Most Needed Items
The Hope Centre food bank is available to Welland residents every 30 days and offers a variety of nutritious food items and hygiene products.
We receive food from private donations,  the annual Welland Food Drive and food drives organized by the community. We rely on food donations to fill our shelves. 
Food Bank Intake Hours
Monday, Tuesday, Thursday, Friday
9:30 am –  11:30 am & 12:30 pm – 3:00 pm
Wednesday *NEW*
11:30 am – 6:15 pm
Our food bank is available to Welland residents by walk-in during our food bank intake hours. We do not book appointments. When you arrive, please register with our client intake support worker.
Registered clients can obtain emergency food through our food bank with a new model of points system where people are allotted a set number of points depending on family size and can then use these points to select the food that makes the most sense for their needs.
Residents of Welland can access the food bank every 30 days. If your day falls on the weekend you can visit on Friday.
Every visit you will be asked to provide identification for ALL members in the household along with proof of current address in Welland. If you have a cell phone you can provide a photo of your ID for proof.
ID examples: Driver's License, Passport, Health Card, Birth Certificate
Address examples: Driver's License, pay stub, piece of mail with address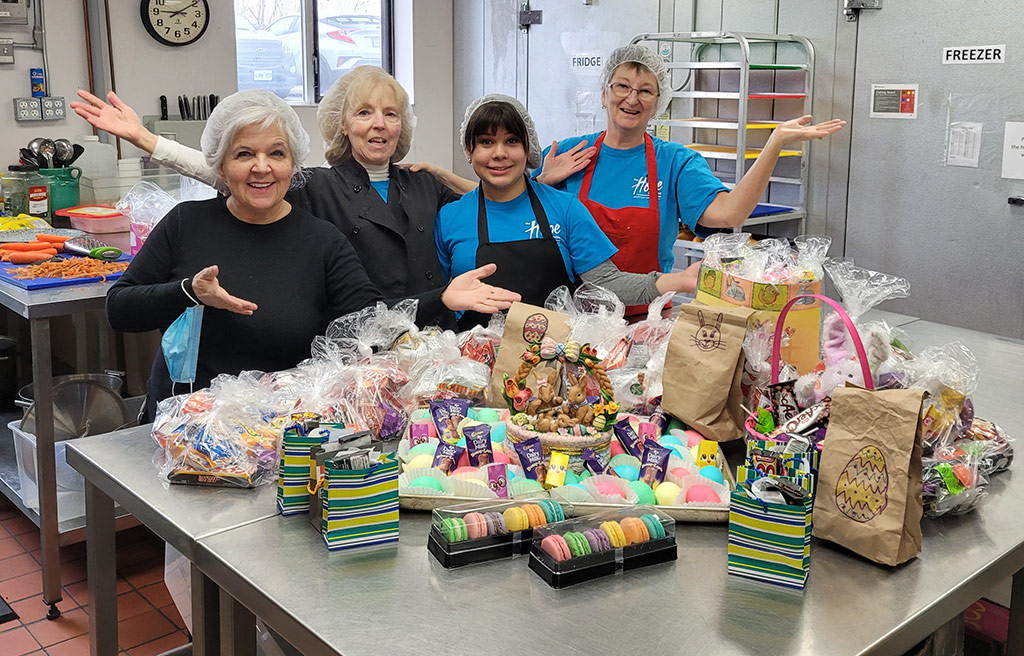 Community Lunch Program
At The Hope Centre we offer a daily take-out lunch program with healthy meals provided to anyone in need (registration is not required).  Lunches are served Monday – Friday between 11 am to 1 pm.
This program is possible because of the relationships that we have with various volunteer and church groups along with local restaurants who provide food and/or prepare food in our kitchen. Depending on donations and availability we do our best to include healthy options including protein, fresh fruit, and vegetables.
Learn More about how you can donate to this program.